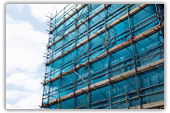 False Creek Industries supplies Polyethylene and PVC coated netting for debris containment applications.

Polyethylene netting
An HDPE netting that is lightweight, durable and particularly suitable for scaffolding or fencing applications where the downward directional flow of falling debris is required.
This netting decreases wind flow and limits the passage of light rainfall. Available in 10' Wide rolls in green color.
PVC Coated nylon netting
A strong heavier duty netting suitable for controlling debris or chips from blowing onto adjoining properties. Custom made for efficient installation or repairs. Available in a variety of colors.